It's Autumn again here in Northeast Ohio. I adore Autumn. I love the crispness of the air, the smell of burning leaves (it's illegal to burn leaves here, so I always wonder where that smell comes from…), fresh apple cider, pumpkin pie, hot soups and stews, warm, cozy sweaters. I love the crunch of newly fallen leaves underfoot, the rich color of the trees, and the dark, dark blue of the sky on a stormy day. It's the season of my birthday, Halloween, the Annual NEORWA retreat, and my favorite holiday, Thanksgiving.
I tend not to focus on the fact that fall means winter is coming. Winters are pretty harsh here–last year was really a doozy–but living in Cleveland teaches one to live in the moment, at least as far as the weather is concerned. So I enjoy the awesomeness that is Autumn, and worry about winter later.
This year I have more reasons than usual to look forward to Autumn. In addition to my 50th birthday, this October brings the release of my second book, Secret Promise.  I started to write it in during NaNoWriMo in November 2013, finished it in November 2014, and it takes place largely in the fall, so I had many of the things I love about the season in mind as I wrote.
Here's the blurb and an excerpt:
Secret Promise (October 30, 2015)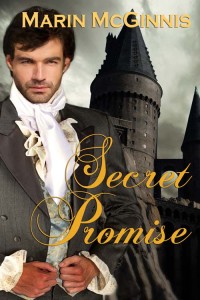 Falsely imprisoned as a blockade-runner during the American Civil War, Edward Mason yearns to go home. But when after seven years he finally returns to England, the life he expected is gone. His parents are dead, his home destroyed, his father's legacy stolen, and his girl—his girl is now the single mother of a child Edward never knew.
Abandoned by the man she loved and disowned by her family, Anna Templeton has learned to stand on her own two feet and make a home for her son. Now the successful owner of The Silver Gull tavern, she's not about to put their happiness in the hands of the one man who let her down so badly.
Edward is determined to regain Anna's love and be a father to his son. But when a series of suspicious accidents threaten him and those he loves, he must stop the man responsible, or lose everything.
Available in ebook and trade paperback from The Wild Rose Press and Amazon. Also available for Nook and Kobo.
Excerpt:
She meandered back to the bar through the now empty room, scooting chairs under tables, watching Edward, who now sat slumped over his untouched drink. Lightly squeezing his shoulder, she leaned against the bar at his side.
"What's the matter? Other than the obvious, of course."
Edward snorted with little humor and did not look at her. "The obvious. Shouldn't that be enough to make me cry into my bitter?"
"A different man, maybe. Not you." She thought for a minute as she gazed at him. He was older, certainly; they both were. He was harder, more…careworn, she supposed, although the scar added an air of devilishness she had to admit was really quite appealing.
She reached out and traced the mark with her index finger before she could stop herself, feeling the warm flush of his skin. Edward barely stirred, just eyed her from beneath his impossibly long, dark lashes.
"But you're not the same man you were when you left, are you?"
"No. And you aren't the same woman, I imagine." He grabbed her hand to keep it still. She could feel the beat of his heart racing through her fingertips. Hers was not far behind.
She pulled her hand away before she rushed headlong into something she wasn't sure she was ready to do, and changed the subject. "You never did tell me how you got that scar."
Edward rose from his stool, tossed a coin onto the bar. "No, I didn't." In a single movement, he pulled her to him, pressing his lips to hers. She closed her eyes, tasting. He was the same as he had been on the cliff top, or at least the way she remembered him. Salty, sweet, the slightest bit sour from his last drink, all mixed together with something that was uniquely Edward. She wanted to crawl inside him, become part of him again, just as she had seven years before.
She moaned, grasping him tighter, even as he pulled away. Her eyelids fluttered as her brain tried to understand the absence of him. He rubbed a finger along her bottom lip, his gaze burning through hers.
"Not yet, Anna. You aren't ready to take me back. But you will." He kissed her again, hard, then was gone. Her legs were jelly as she slumped against the bar.
"No, not yet," she breathed into the empty room. "But bloody close."
A lawyer in real life, Marin McGinnis feeds the more creative part of her soul by writing Victorian era romance and mystery. She's spent almost half her life in a tree-lined, unabashedly liberal suburb of Cleveland, Ohio. She's been married to the same great guy for over 20 years, and has one teen-aged son. They all live together in a drafty old house with their two standard poodles, Larry and Sneaky Pete. While her very first book will languish under the bed, the next book, Stirring Up the Viscount, won two contests in 2013 and was published by The Wild Rose Press in January 2015. Her next two books, Secret Promise and Tempting Mr. Jordan, are also available from Wild Rose Press. Marin currently serves as President of the Northeast Ohio chapter of Romance Writers of America and is hard at work on the next book. You can find her here, at marinmcginnis.com, Twitter, Facebook, Goodreads, and Pinterest.