The Wedding Barn
, my latest release, was so much fun to write. Here are the things I enjoyed most:
1. Planning Weddings: My wedding was 15 years ago–before the day of Pinterest and so many neat wedding ideas. My heroine in The Wedding Barn is a wedding planner, which means, I had the opportunity to create all kinds of ceremonies and receptions. It was a blast.
2. A Brooding Cowboy: The hero, Nick, was a great character to write. He had a tragic background and fights falling in love. Who doesn't love a cowboy?
3. The Ranch Setting: I grew up on a ranch, and it's always fun to go back to that place.
4. Revisiting Past Characters: This is the second book in my Taste of Texas series (although they can be read in any order),  and we get to take a look at where
Dylan and Lucy
are today.
What kind of wedding would you have if you were planning one today?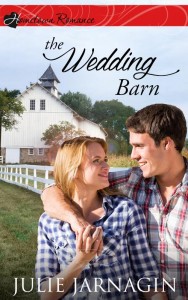 Slow down and experience life on a rural Texas ranch. And fall in love all over again…
Paige Morgan's career is in shambles. What kind of wedding planner gets left at the altar? So when a job planning parties on a ranch in rural Texas comes her way, she jumps at it. So what if the cowboy who runs the place isn't happy she's there?
Rancher Nick Reid risked his heart once… and lost. Who needs love? He's got a great life on the family ranch—so long as Paige Morgan and her city ideas don't ruin it all. If only his family didn't need her help to save their livelihood. And if only he wasn't so darned drawn to the woman. But no sooner does Nick start to believe in love again, than a socialite shows up looking for Paige. Asking her to plan an elaborate wedding. Back in the city.
Both Paige and Nick need a second chance at love. But what will it cost them to take it?
Beth jumps into life with both feet...or head first. Impulsive and spontaneous to a T, she joined Passionate Critters and never looked back. She loves writing and reading, which made this wonderful group of woman a perfect match for her.