Today is release day (happy dance!) for Tempting Mr. Jordan, an historical romance set primarily in Maine in 1871.  The heroine in this book is Julia Tenwick, who we last saw in Stirring Up the Viscount as the hero's precocious little sister. Now she's all grown up, and heads off to America for one last adventure before settling in to life as a spinster and doting aunt to her brother's children.
As usual in romances, she meets a man who throws a wrench in her plans–the arrogant, reclusive painter from northern Maine, Geoffrey Jordan. Geoffrey isn't based on any one person, but I imagine him a curious hybrid of John Thornton (played to swoonworthy perfection by Richard Armitage) from Elizabeth Gaskell's North and South, Frederic Edwin Church, a 19th century American painter who spent a lot of time in Maine, and any number of arrogant, talented men I've met in my life. There have been a few…
One of my favorite scenes in the book comes from a sketch I saw at the Cleveland Museum of Art a couple of years ago. It was in an exhibition called "Maine Sublime," which featured landscapes by Church and other members of the Hudson River School. In it, there was a sketch he used to paint one of his more famous paintings, Twilight in the Wilderness.
I wasn't allowed to take a picture of the sketch at the museum, and I can't find it online, but it looked a bit like this one:
It was a rough sketch of the scene, accompanied by the names of colors here and there. Church used descriptive sketches like these to paint later. It inspired me so much I hurried home to write this scene:
Julia pulled her cloak around her shoulders and left by the kitchen door. Soft snowflakes danced lightly around her head as she made her way toward the water. She loved the crisp air, the snow, the scents of wood smoke, salty waves, and pine. She walked around toward the lighthouse, imagining how much her brother would love it here. He'd have his sketchbook tucked under his arm, ready to pull out at a moment's notice when the mood struck.
The snow began to fall faster, swirling around as she clambered over the large rocks at the water's edge. The sky was streaked with red, orange, blue, and gray, and she stopped, perched, just to watch.
"Get out of the way!"
She jumped at the strident tone, nearly toppling into the water. Regaining her balance, she turned carefully, and sighed.
Geoffrey Jordan sat on a neighboring rock behind her, sketchbook in hand. His expression was darker than the sky had been when she started on this walk. Julia was unable to stop herself from stepping back in surprise. Apparently there were bears near the shore as well.
"You're blocking my view." The muscles of the man's face settled into a grimace which Julia found only marginally less frightening than his scowl.
"All right, I'm sorry! I didn't see you there." Julia took another step back and cried out in pain as her foot slipped into a crevice between the rocks.
Geoffrey swore and tossed his sketchbook to the side. He strode over to her and held out a hand.
Given his expression, Julia considered whether it might be safer to remain where she was. Geoffrey stuck his hand out again, waving it impatiently.
Julia finally realized she was more annoyed than afraid. "How am I supposed to grab your hand when you wave it about like that?"
"Oh, for God's sake!" He reached down with both hands and grabbed her waist, pulling her to her feet. She ignored the tingling of her skin where he touched her and focused on her anger instead.
"I don't know why you're so angry at me. It's not my fault I fell. You startled me."
"You stepped into my line of sight. And now the sunrise is nearly gone, I've missed it, and it's entirely your fault."
Julia realized his hands still rested on her hips, and she pushed them away. "You sound like a petulant child."
He returned to his sketchbook and sat down again. He started scribbling, ignoring her. She ignored him as well and gingerly ran a hand over her throbbing ankle. Her stocking was torn, and a shallow cut showed through it. Deciding she should return home to clean the wound, thanks to this odious man, she slowly made her way across the rocks past him. She caught a glimpse of his sketch as she passed. Intrigued, she stopped and bent at the waist, looked over his shoulder.
"You're barely drawing anything at all. What does that say?"
He scowled again, but he answered, "Scarlet."
She pointed at the corner of the drawing. "And that?"
"Azure. I thought all proper English ladies could read."
"Your handwriting is terrible. What does that say?" She pointed again.
"Orange."
She peered closer. "It does not. It looks like 'crindle.'"
He laughed, and she turned her head to look at him. He was much less frightening when he laughed. Handsome. She blinked and unbent.
"'Crindle'? What on earth does that mean?"
Her cheeks warmed. "Well, I don't know, do I? It's your drawing."
"And it says 'orange.' What are you doing out here anyway?"
"I wanted to go for a walk."
"At the crack of dawn?"
"I didn't think I would see anyone."
"Why didn't you want to see anyone?"
She sighed. "Because conversation tires me, sometimes. This one in particular."
"I don't disagree." He stroked his pencil across the paper a few more times, and she craned her neck to look.
"Why didn't you just paint the sunrise? Why describe it?"
"Because the sunrise is a fleeting thing. It never lasts long enough for me to paint it, so I sketch the scene and write the names of the colors, to jog my memory when I am in my studio."
Julia turned to look at the sky. It was gray now, with little wisps of blue and white streaked across it. All of the stunning red and orange hues were gone. She suddenly felt terrible for ruining his view.
"I am sorry I got in your way. I don't suppose you could try again tomorrow?"
He shrugged. "A sunrise like that one is rare."
Now she felt even worse. "Well, I am sorry."
"Where did you think you were going? The rocks lead out into the water, and the tide will be in soon. What if you'd fallen when I wasn't here to help? You'd have drowned."
Shame was quickly replaced by annoyance. "I wouldn't have fallen if you hadn't startled me!"
"Well, it was careless."
Julia placed both hands on her hips and stared at the insufferable man. "You haven't a very high opinion of my intelligence, have you?"
"I have no opinion of your intelligence at all. I think you take risks that a lady shouldn't take."
"I was hardly doing pirouettes out here! I would have been fine if you hadn't yelled at me."
"I didn't yell at you."
"Yes, you did!"
"Fine! I'm sorry I yelled at you. Now go home, before you truly hurt yourself." Before she could reply, he tucked his sketchbook under his arm, stood, and scrambled away across the rocks like a crab.
She watched him go, annoyed with him and herself in equal measure. Well, mostly with him. Insufferable man. She gingerly followed, lifting her skirts higher to avoid the rising water. The tide was indeed coming in.
She hated that he was right.
You can read more about Tempting Mr. Jordan–including buy links, should you be so inspired–at my website. And should you find yourself in northeast Ohio, you can see the original of Twilight in the Wilderness, which hangs in Gallery 206 at the Cleveland Museum of Art. Perhaps it will inspire you too.
And if you follow me on Facebook, Twitter, or Goodreads, you can enter to win this great Maine-themed gift box, offered by me and author Becky Lower.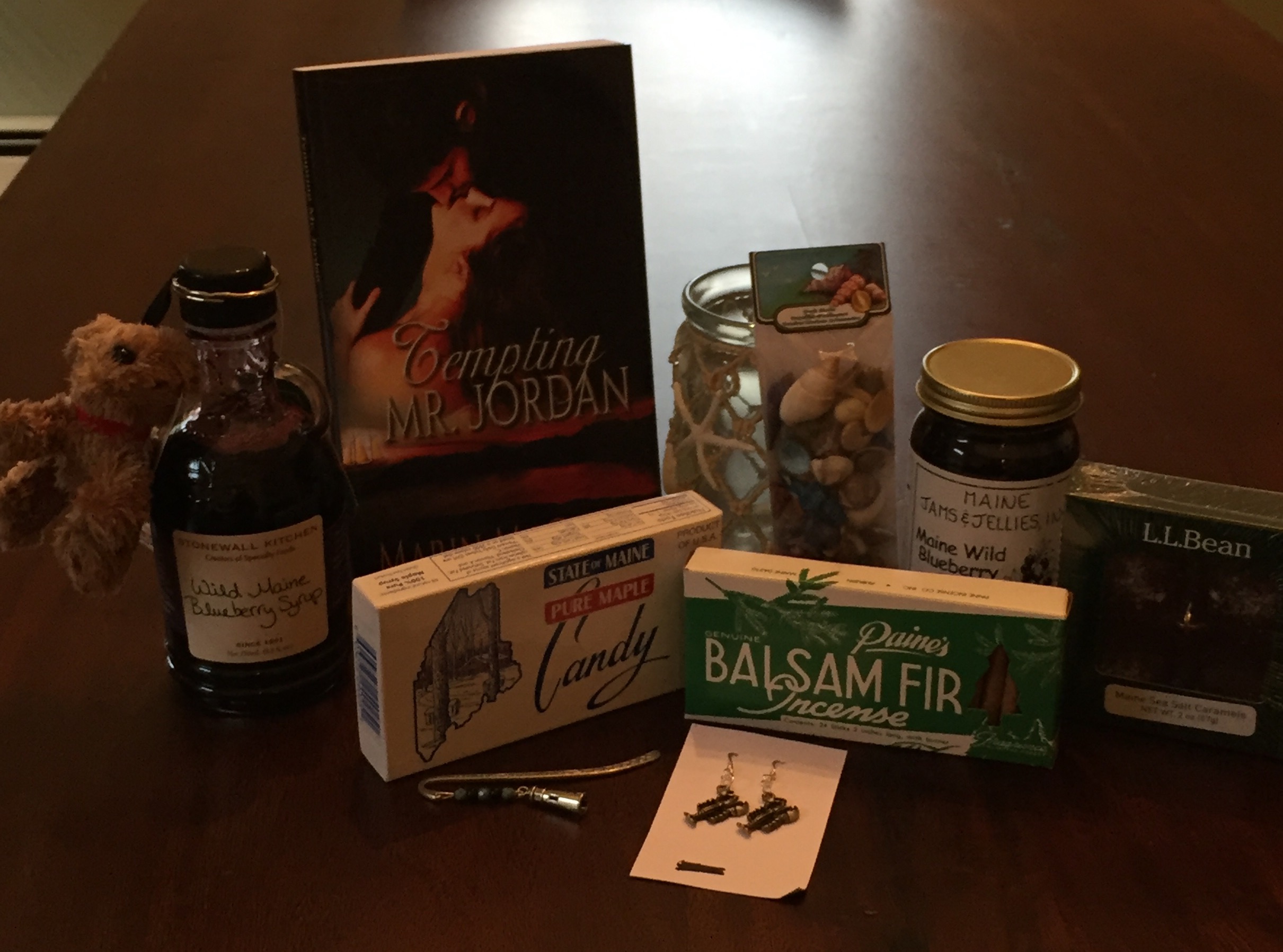 a Rafflecopter giveaway

Marin McGinnis has been a voracious reader ever since she could make sense of words on the page, but she came fairly late to writing. She dabbled with a mystery in her 20s, but didn't start writing in earnest until after she discovered historical romance a decade or so later. While her very first manuscript will forever languish under the bed, the next one, Stirring Up the Viscount, won two contests in 2013 and was published by The Wild Rose Press in January 2015. Her next three books, Secret Promise, Tempting Mr. Jordan, and Treasure Her Heart, were also published by The Wild Rose Press. Check out her Bookshelf for more info. Marin lives in a suburb of Cleveland, Ohio with her family. She is represented by Margaret Bail of Fuse Literary.