Eighties Movie Takeover
I have three kids, two teenage boys and a tween girl. They attend a charter school with no bus service, so I drive them to and from school. Add to that multiple activities for each of them, and we end up spending a lot of time on the road during the school year. So the summer is our time to relax and have fun. The days last longer, the clock seems to move more slowly, and, oh yeah, we live in Texas where it's too hot to go outside after 10:00 a.m. unless you're a desert animal or involved in a water-based activity. So watch a lot of movies.
This year my oldest son has set a goal for us to watch the 100 greatest movies of all time, except of course there is some disagreement among experts over the 100 greatest, so we're looking at more like 115 movies. We're trying to watch the movies as a family, but a few are inappropriate for my tween, and some of them I have zero interest in watching (think Westerns). So some nights we leave the boys to watch those movies and we girls head to another area of the house to watch something else, namely teen movies from the eighties. As far as I'm concerned, the eighties were the Golden Age of teen movies (this determination *may* have been influenced by the fact that I was a teen during the last half of that decade), so I'd like to share a few of my favorites and why it was important to me that my daughter has a chance to watch them.
The Breakfast Club This one was rated R, so I saw it in the theater with my dad and older sister, but that in no way diminished its awesomesauceness. I was still in junior high when it came out, and  I was a Goody Two-Shoes, so the concept of detention and the people who earned it was fascinating and really made me think about people outside of my small sphere of friends and how they really weren't that different from me (except clearly more brave because I would never have done anything that could result in getting detention).
Ferris Bueller's Day Off I never saw this one in the theater, but by the late eighties we had cable (squee!) and I watched it somewhere between ten and a million times. This movie was just plain fun and I still use "Bueller?…Bueller?…Bueller?" whenever my kids don't respond quickly.
Sixteen Candles I didn't see this one in the theater either, but thankfully we got a VCR in 1987. This movie was fun and just plain silly in parts, but being the younger sister to a prettier, more popular older sister, I really identified with Samantha's character. And Jake Ryan was my first huge crush. I still swoon when I see that last scene with the birthday cake.
Pretty in Pink Our house burned down in December of 1986. We lived in a rental house while it was being rebuilt, but of course they didn't finish on time, so we ended up living in hotel for most of the summer. For some reason my parents let my sister live with a friend, but I wasn't old enough to drive and was stuck at the hotel. Luckily I had my own room, and if my memory serves me correctly, I watched this movie on cable for the better part of my time there. Sure, I had read the Outsiders and all, but the place where I grew up was pretty firmly middle class, so this movie introduced me to the "other side of the tracks" romance.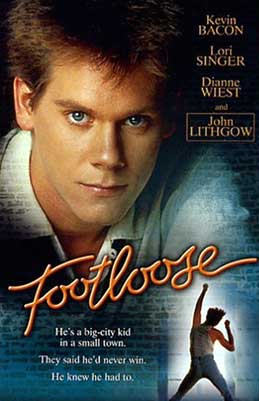 Footloose So in the smallish town where I grew up in Northern Ohio, there wasn't much to do on the weekends, especially when you weren't old enough to drive. Once football season ended, there was just the two-screen movie theater for weekend entertainment. It only cost a dollar for kids to get in and I was in junior high when this movie came out, so of course I watched it about twenty weekends in a row. I still love the soundtrack, and really, how can someone ban rock music and dancing? My twelve year old self experienced All the Feels of righteous indignation and falling in love along with Ariel and Ren.
Which eighties movie is your favorite?
*~*~*
About Ally
Ally lives in Texas and is convinced her house is shrinking, possibly because she shares it with three kids, five dogs, a cat, a rabbit, and several reptiles. Oh, and her husband.  She likes to curse in Russian and spends most of her spare time letting dogs in and out of the house and shuttling kids around. She writes historical romance set in Regency England and Imperial Russia.
She loves to hear from readers and you can find Ally on her website, Facebook, and Twitter, though she makes no claims of using any of them properly.
Her debut release:
Charlotte Lightwood has one season to find a husband or she'll be forced to marry her guardian's loathsome cousin. With no title or dowry, she doesn't have much hope of making a good match. Sebastian Wilkinson, the Earl of Marley, has been the most eligible bachelor on the marriage mart for more years than he cares to count and is very aware of his duty to marry a woman who will add to the wealth and stature of his title. Sebastian makes Charlotte an offer she can't refuse: he will pretend to court her to help her attract more suitors in exchange for her advice about which ladies he should pursue. As they work together, their mutual attraction grows. When they realize they just might be perfect for one another, they must decide whether to bow to the dictates of society or follow their hearts.
Buy Links:
Amazon: http://www.amazon.com/Just-Kiss-Novella-Entangled-Edge-ebook/dp/B00JI0RS1M?tag=entangpublis-20&link_code=ur2&creative=9325&camp=211189
Barnes & Noble: http://www.barnesandnoble.com/w/just-a-kiss-ally-broadfield/1119127247
Beth jumps into life with both feet...or head first. Impulsive and spontaneous to a T, she joined Passionate Critters and never looked back. She loves writing and reading, which made this wonderful group of woman a perfect match for her.