Creating a Lovable Heroine
by Emily Mims
I'm going to make a confession right now.  Writing a lovable heroine didn't always come easy for me.  I have been taken to task time and time again by my editors and occasionally by my readers because my heroines have not been the nicest people in the world.  Oh, they weren't cruel or vicious or evil.  They didn't deliberately set out to steal or cause trouble or hurt others in the story.  But somehow they weren't all that likeable either, at least not in the first draft.  Unlike my heroes, who the readers and I fall in love with right along with the heroine, my heroines could sometimes seem cold and aloof and uncaring.  And I had to change that, because along with falling in love with the hero, my readers also have to care about the heroine.  They have to like her and root for her and really, really want her to have her happily ever after.  Otherwise, why read her story?
So I had to sit down and think.  Why were my heroines coming off less than wonderful?  Why was I writing them so cold?  A part of it was because I wanted my heroines to be very, very strong women.  I grew up reading a generation of romance novels in which the women were seldom portrayed as strong.  They were young, pretty, and just marking time until a rich, handsome older man came along (or rode up on his steed) and swept her off her feet.  Or they let themselves be a doormat, both for the hero and for just about anyone else who cared to use them in that manner.  I had a lot of fun reading those books but I would also get aggravated.  No way, I would think.  Where is her spine?  Where is her gumption?  Where is her career?  Where is the strong woman I want to read about?  Where is the strong woman I want to be?  My heroines would be different!
And so at first I over-compensated.  My heroines were strong and independent all right, but at the same time cold and brilliant and emotionless–or they were until my editor at Candlelight Ecstasy sat down with me and together we looked at my ladies.  She took me page by page through the first few novels I wrote for her, patiently pointing out the places where my heroines were cold and needed to be 'warmed up'.  "Don't make her so perfect," she said to me.  "Put her in a ratty robe and let her have laundry on the sofa.  Make her human."  And that went for my heroine's relationship with the hero.  She could be strong, but she has to be loving as well.  She has to care about him and it has to show.
I like to think I paid close attention and learned.  But I struggle still.  In the first read-through of 'Solomon's Choice', my first book in the Texas Hill Country series, Caroline Stern was very cold, frozen in grief over her dead husband, bitter about the time lost with her child and totally uncompromising in her attitude toward Jack Briscoe, under the circumstances perfectly natural reactions–but not very attractive ones.  So, taking the advice of a trusted reader I warmed her up and gave her compassion for Jack, a fellow victim of a cruel plot and the father of her child.  I was more careful with my next heroine.  Captain Holly Riley, the heroine of 'Daughter of Valor', is a wounded warrior who is understandably unhappy with the turn her life has taken, but she has channeled her frustration into helping her wounded warrior friends who are worse off than she, and in spite of her amusing tendency to pop out orders her soldiers and the four year old daughter of the hero adore her.  Christi of 'Welcome Home' helps paraplegic Tommy Joe adjust to his new life in a wheelchair and Emily Riley of the upcoming novella 'Unexpected Assets' is able to look past her hero's horrible scarring to see the wonderful man within. And what can I say about Angie Baxter, my heroine of the next full-length book in the Texas Hill Country series 'Never and Always'?  This woman stayed with an abusive husband because of her love for her beloved stepson.  I made sure that her love for the boy shone from every page of the book.
So what qualities did I finally learn to create in my heroines?  These days, they are strong, yes, but I'm also careful to make them caring of the hero and others around them.  Caroline shells the pecans in her yard to make Jack pecan pies.  Holly buys special pots and pans for one of her warriors so he can get a job as a chef.  Angie bakes special cakes for her son.  They are less than perfect–I let them get tired and frazzled and frightened and down–but they never let life defeat them.  They accept or learn to accept the heroes for who they are, or better yet, help the heroes become better men than they were. And they too grow in the story.  They are better women on the last page of the book than they were on the first.  And we love them for it.
***
Together Cathy and Beto have faced horror and heartbreak. Will they together find their way back to happiness?
What was to be the first night of the rest of their lives together instead became an evening of heartbreak and horror. Now dealing with the aftermath, Cathy Armbruster and Beto Flores struggle to put their lives and their relationship back together. Was their future destroyed on that fateful night, or will Cathy and Beto find a way to get past the heartbreak and claim the happily ever after with one another that they both want so desperately?
Buy Links:
http://www.amazon.com/After-Heartbreak-Emily-Mims-ebook/dp/B00NP7N4SK/
http://www.smashwords.com/books/view/477608
https://www.allromanceebooks.com/product-aftertheheartbreak-1630094-149.html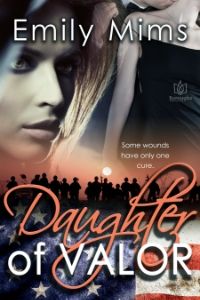 When wounded war hero Holly Riley comes home to the Texas Hill Country to build a new life for herself, she has no idea that life will include sexy Congressional candidate Jimmy Adamcik!
Wounded war hero Holly Riley has come to the lakeshore community of Heaven's Point to recover from her injuries and build a new life for herself with her band of fellow wounded warriors. Temporarily employed as a nanny be charismatic Congressional candidate and neighbor Jimmy Adamcik, Holly and Jimmy quickly began to care for one another in spite of Holly's distrust of politics. But Jimmy finds himself sucked deeper and deeper into the seamy side of the political process, and an old enemy from Jimmy's past targets Holly's soldiers one by one. Will Jimmy and Holly's love survive the double onslaught-or will they be the final target of their unknown enemy's rage?
Buy Links
http://www.amazon.com/Daughter-Valor-Emily-Mims-ebooks/dp/B00S0H8LBA
http://www.smashwords.com/books/view/508976
http://allromanceebooks.com/product-daughterofvalor-1720943-149.html

Tommy Joe is home from war, but he's now in a wheelchair-and always will be. Can he still be the man a woman like Christi deserves?
Crippled by a sniper's bullet, paraplegic Tommy Joe Reece doesn't see how he can run a ranch from a wheelchair-or be a husband to Christi, the girl he's always loved. Will Tommy and Christi let their doubts and fears about the future destroy their love, or will they have the courage to reach out to one another and find a way to make it all work?
Buy Links:
http://www.amazon.com/Welcome-Home-emily-mims-ebook/dp/B00S1AWDPQ
http://www.smashwords.com/books/view/509051
https://www.allromanceebooks.com/product-welcomehome-1720959-149.html
***
Writing was not San Antonio teacher Emily Mims' first love-in fact, she wrote her firstnovel on a dare.  "I had just finished a romance novel and it was so awful I pitched it across the floor and said I could do better.  My husband Charles promptly dared me to do so."  She did and although that book didn't sell, she sold her second book and seventeen more to Candlelight Ecstasy Romances under the name 'Emily Elliott'.  These books were translated into six languages and sold millions of copies all over the world, and Emily discovered to her delight that she had many stories to tell and that she loved telling them.  But Emily never left the classroom, and when the Candlelight Ecstasy line closed in 1986 she continued with her demanding teaching career and raising two young sons and her storytelling fell by the wayside.  "But the desire to write never really left," she admits.  "I would be driving down the street making up stories in my head.  Now that I'm no longer in the classroom, I am ready to tell my stories again."
Again inspired by the thought that she could do better, Emily pitched another novel across the floor and under her own name wrote Solomon's Choice, set in the Texas Hill Country where Emily and Charles have a second home.  "I love the Hill Country and hope to set several more books there," she says.  "I also enjoyed incorporating suspense into the story."  She draws inspiration from the people and places in her life and from the things she loves to do.  "Sometimes my characters are loosely based on someone I know, although by the end of the first chapter they have taken on a life of their own," she laughs.  "Places aren't that contrary."  She also loves to combine her love of writing with some of the other things she loves to do.  "I play dulcimer and ukulele in a folk music group and hope to use this as a background in future work."
Emily lives in San Antonio with her husband Charles and their five dogs but spends time both in the Hill Country and in Eastern Tennessee.  She would love to hear from each and every one of her readers!
Beth jumps into life with both feet...or head first. Impulsive and spontaneous to a T, she joined Passionate Critters and never looked back. She loves writing and reading, which made this wonderful group of woman a perfect match for her.